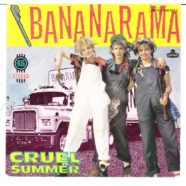 Jul

04
Tags
Related Posts
Share This
Hot Songs For A Hot Week: TTF
Here's what I played this week on The Taste the Floor Show:
Billy Idol: Hot In The City (s/t)
The Cure: Hot Hot Hot (Mixed Up)
Bananarama: Cruel Summer
Hedge Fund: Hot & Lonely
Cheap Trick: Hot Love
The Rolling Stones: Hot Stuff (Black and Blue)
The Blue Nile: Heatwave (A Walk Across the Rooftops)
The Stranglers: Always the Sun (Dreamtime)
Susanna Hoffs: Summer Daze (Some Summer Days)
INXS: Burn For You (The Swing)
Dream Wife: Fire (s/t)
Emily C. Smith: Burn (Far from Judd EP)
The Jimi Hendrix Experience: Fire (Are You Experienced)
DEVO: Through Being Cool (New Traditionalists)
The Taste the Floor Show can be heard at 9 p.m. on Wednesdays and 5 p.m. on Saturdays on WNHN-LP 94.7 in Concord, NH. Listen to the stream here. The show is also heard on IPM Nation Live 2, global online radio streaming here, at 10 p.m. on Wednesdays. IMP Nation also has the Taste the Floor Show archived on its website here.
Image: Bananarama 7-inch.