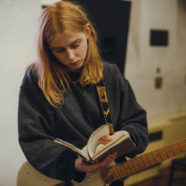 May

30
Tags
Related Posts
Share This
'Never' Songs, New Stuff, And Spring 1988: TTF
This week on the Taste the Floor Show, I played the following:
Desperate Journalist: About You (You Get Used to It EP)
Kate Tucker: Devil Think Twice (Practical Sadness)
The Aces: Waiting For You (When My Heart Felt Volcanic)
Steffany Gretzinger: Dust (Blackout)
Fenne Lily: Brother (On Hold)
Wire: The Finest Drops (A Bell Is a Cup)
The Fall: Wrong Place, Right Time (I Am Curious, Orange)
The Jesus & Mary Chain: Sidewalking (Barbed Wire Kisses)
Cheap Trick: The Flame (Lap of Luxury)
Jane Wiedlin: Rush Hour (Fur)
Liz Phair: Never Said (Exile in Guyville)
Romeo Void: Never Say Never (Benefactor)
Echo & the Bunnymen: Never Stop (The Sound of Echo EP)
INXS: Never Tear Us Apart (Kick)
The Jesus & Mary Chain: Never Understand (Psychocandy)
The Taste the Floor Show can be heard at 9 p.m. on Wednesdays and 5 p.m. on Saturdays on WNHN-LP 94.7 in Concord, NH. Listen to the stream here. The show is also heard on IPM Nation Live 2, global online radio streaming here, at 10 p.m. on Wednesdays. IMP Nation also has the Taste the Floor Show archived on its website here.
Image: Fenne Lily by Carl Osbourn.