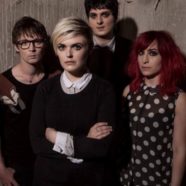 May

09
Tags
Related Posts
Share This
Hot, New Stuff For May: TTF
Here's what I played this week on the Taste the Floor Show:
Tanners: Holy Water
Tim Burgess: Clutching Insignificance (As I Was Now)
Courtney Barnett: Pickles from the Jar
Hey Ocean!: Just Enough (The Hurt of Happiness)
Belly: Army of Clay (DOVE)
BONZIE: Everybody Wants To (Zone on Nine)
The Alarm: Beautiful
The Alarm: Rain in the Summer Time
The Ravonettes: Ghost
Jane Weaver: The Lightning Back
Desperate Journalist: The Bomb (You Get Used to It)
Juliana Hatfield: Magic (Juliana Hatfield Sings Olivia Newton-John)
Fenne Lily: The Hand You Deal (On Hold)
Hope Sandoval and the Warm Inventions: Isn't It True (Until the Hunter)
The Taste the Floor Show can be heard at 9 p.m. on Wednesdays and 5 p.m. on Saturdays on WNHN-LP 94.7 in Concord, NH. Listen to the stream here. The show is also heard on IPM Nation Live 2, global online radio streaming here, at 10 p.m. on Wednesdays. IMP Nation also has the Taste the Floor Show archived on its website here.
Image: Desparate Journalist.