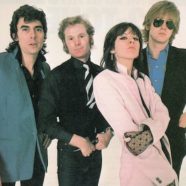 Apr

25
Tags
Related Posts
Share This
Almost To The End Of Fave M Songs: TTF
Here's what I played this week:
Duran Duran: My Own Way (Rio)
The Knack: My Sharona (Get the Knack)
The Moody Blues: My Song (Every Good Boy Deserves Favour)
The Psychedelic Furs: My Time (Mirror Moves)
The Cautions: My Turn Now (The Cautions EP)
Black Flag: My War (My War)
Frank Sinatra and Willie Nelson: My Way (Duets)
Echo & the Bunnymen: My White Devil (Porcupine)
The Church: Myrrh
U2: Mysterious Ways (Achtung Baby)
The Pretenders: Mystery Achievement (The Pretenders)
Marc Bolan & T Rex: Mystic Lady
The Jesus & Mary Chain: Taste of Cindy (Psychocandy)
The Taste the Floor Show can be heard at 9 p.m. on Wednesdays and 5 p.m. on Saturdays on WNHN-LP 94.7 in Concord, NH. Listen to the stream here. The show is also heard on IPM Nation Live 2, global online radio streaming here, at 10 p.m. on Wednesdays. IMP Nation also has the Taste the Floor Show archived on its website here.
Image: The Pretenders.