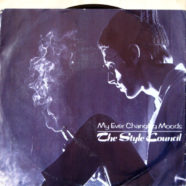 Apr

11
Tags
Related Posts
Share This
My, Oh, My, My, My: TTF
Here's what I played this week on The Taste The Floor Show:
Wilco: My Darling (Summerteeth)
The Style Council: My Ever Changing Moods (12-inch version)
The Who: My Generation
Lucius: My Heart Got Caught on Your Sleeve (Good Grief Deluxe)
The Mamas & the Papas: My Heart Stood Still
Translator: My Heart, Your Heart (Heartbeats and Triggers)
Echo & The Bunnymen: My Kingdom (Ocean Rain)
Wings: My Love
Hadewych Minis: My Man Is Mine (The Truth and Nothing but the Truth)
The Gun Club: My Man's Gone Now (The Las Vegas Story)
Liz Phair: My My (Funstyle)
Cheap Trick: My Obsession (Special One)
Steely Dan: My Old School
Dean Martin: My One and Only Love
The Knack: (Havin' A) Rave Up (But The Little Girls Understand)
The Taste the Floor Show can be heard at 9 p.m. on Wednesdays and 5 p.m. on Saturdays on WNHN-LP 94.7 in Concord, NH. Listen to the stream here. The show is also heard on IPM Nation Live 2, global online radio streaming here, at 10 p.m. on Wednesdays. IMP Nation also has the Taste the Floor Show archived on its website here.
Image: The Style Council 7-inch single from 1984