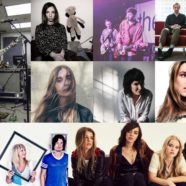 Dec

27
Tags
Related Posts
Share This
THE BEST OF 2017, PART 2: TTF
Here's what I played this week on The Taste the Floor Show:
Sunshine & The Rain: I'm Not Your Girl (In the Darkness of My Light)
Ride: Lateral Alice (Weather Diaries)
Juliana Hatfield: You're Breaking My Heart (Pussycat)
The Aces: Stuck (I Don't Like Being Honest EP)
Sebastian Blanck: Patterns (Convince Me)
Eden Sela: Nothing But Dreams (Snake Mother EP)
Wake Owl: Love Is (Kaleidoscopes)
Jen Cloher: Sensory Memory (Jen Cloher)
Julie & The Wrong Guys: Love and Leaving (Julie & The Wrong Guys EP)
The Safe: Hometown (Tasty Waves EP)
Orchestral Manoeuvres In The Dark: One More Time (The Punishment of Luxury)
Fears Chella: Lush
Noosa: Don't Fight the Feeling (The California Songs EP)
Linn Koch-Emmery: Forever Sounds (Boys EP)
Hey! Ocean: Can't Let Go
Sian Richards: Borderline
The Taste the Floor Show can be heard at 9 p.m. on Wednesdays and 5 p.m. on Saturdays on WNHN-LP 94.7 in Concord, NH. Listen to the stream here. The show is also heard on IPM Nation Live 2, global online radio streaming here, at 10 p.m. on Wednesdays. IMP Nation also has the Taste the Floor Show archived on its website here.