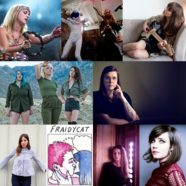 Dec

13
Tags
Related Posts
Share This
The Best Of 2017, Part 1: TTF
Here is a list of the songs I played this week on the Taste the Floor Show:
Rose Elinor Dougall: Stellular
Famous by February: Pour Me Out (Confessions EP)
Hope Sandoval and The Warm Inventions: A Wonderful Seed (Until the Hunter)
Molly Burch: Loneliest Heart (Please Be Mine)
The Puppies: Summer (Monster Island)
Louise Burns: Young Mopes
Bleached: Trouble (Can You Deal? EP)
Nadia Reid: The Arrow and The Aim (Preservation)
Parlor Walls: Hesitation (Opposites)
Thea & The Wild: Dark Horse
Fraidycat: Fortune Cookies
Emma Elisabeth: Talisman
Zoe Durrant: Island (Island EP)
Tashaki Miyaki: City (The Dream)
Allison Crutchfield: I Don't Ever Wanna Leave California
The Taste the Floor Show can be heard at 9 p.m. on Wednesdays and 5 p.m. on Saturdays on WNHN-LP 94.7 in Concord, NH. Listen to the stream here. The show is also heard on IPM Nation Live 2, global online radio streaming here, at 10 p.m. on Wednesdays. IMP Nation also has the Taste the Floor Show archived on its website here.