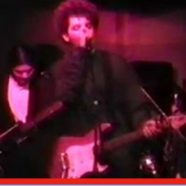 Dec

06
Tags
Related Posts
Share This
Oh My Word, Where Did This Come From?
Oh my friggin' God … where did this come from? I didn't even know this show was recorded. One of my old Boston bands, Lovers & Other Monsters, played the the Middle East Upstairs in Cambridge, MA, on Sept. 18, 1990, and it appeared yesterday on YouTube.
It's a fabulous disaster, actually. It's painful to listen to in places but very cool in other spots. My voice is pitchy and sharp here and there, there are sound problems, and it was our first gig with synth player Michael Reardon, who added a lot to the sound. The guitar and songs, however, sound pretty good.
There aren't too many songs – it's only 36 minutes – but there are some good ones, including tunes from our first album, "In My Mood Balcony," a long drony bit called "A Burning Wind," which we only played a few times, and our version of the old Drumming On Glass song, "Scream," which closed out the set (it's the same version that appears on my double CD I released around this time in 2002 called Tony Schinella, "Fortune Cookie Psychology: The Greatest Misses.")
Very, very cool to experience this again. Thanks, Road to Ruane: