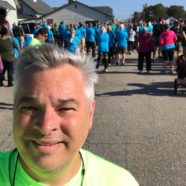 Oct

16
Tags
Related Posts
Share This
Foley Freedom Run Raises $95K
Well, my body held it together and I was able to make it through the James W. Foley Freedom Run in one piece. In fact, even though I've only been running 5Ks since 2012 – I believe that this is my fifth or sixth one now – I was able to better my time.
Woot, woot. Made it. https://t.co/PMhEIJJQKL

— Tony Schinella (@politizine) October 14, 2017
I also raised a bit of coin for the org. OK, not really that much, around $250 (TY! everyone!!). But enough to get a free beer glass. LOL (I actually spent more at the gift shop than I did registering to run). The run raised more than $95,000 in 2017, a bit shy of the $150K it was shooting for but something is better than nothing. I was also able to speak with Jim's dad for a minute, too, which was fulfilling.
But, most importantly, at least for my ego, was the fact that I was able to better my time from last year: I placed 58th in age bracket (50-59), up 11 slots from 2016; 579th overall, or 290 slots better than last year (maybe there were fewer runners). And I shaved about 2 minutes off last year but continue my 15 minute mile snail's pace. More goals to strive for next year.