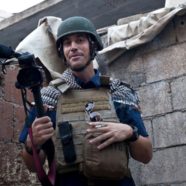 Oct

02
Tags
Related Posts
Share This
Why #IRunForJim … And Now, Raise Money, Too
While we're all doling out our spare cash for hurricane relief efforts, if you're feeling a tad more generous, I'm running again in The James W. Foley Freedom Run/Walk 5K in two weeks.
OK, body, don't fail me now … James W. Foley Freedom Run/Walk 5K … #irunforjim #freedom #destroyisis #rocknrolljourno pic.twitter.com/yohfJDJfzI

— Tony Schinella (@politizine) October 15, 2016
Last year, I placed 869th … 68th in my age division (50-59). I'm hoping to beat that time … and not get injured.
This year, instead of just paying the fee and hobbling through the race, I figured I would try and raise a bit more coin (if I get to $200, I get a cool glass, LOL). Make an online donation here.
For those of you who don't know, James Foley was the NH photojournalist who was kidnapped in Syria and brutally murdered by ISIS terrorist Jihadi John. Last year, I received an invitation to run and I did. I figured it was the last I could do. It's actually just another way to support New Hampshire and journalism.
A few months after the race, I was in Market Basket after working out – I wear my #IRunForJim T-shirt at the gym – and was in line. An elderly man behind me nudged me and asked, "Who's Jim?" I told him, spoke about the incident, and the foundation. The man looked at me, scoffed as if I was making it up or something, and moved to another aisle. I was kind of surprised and confused by this but, frankly, didn't bother to get into it with him. How could he not know about this journalist, from our own state, who was beheaded? It made national news … it made local news … it was horrific.
#IRunForJim to honor his life and support the foundation in his honor. It could be any one of us who got the chance to go overseas to cover the war torn regions of the world. It's dangerous, yes. But, frankly, all amazing, honest, accurate reporting is.
If you can't make a donation, that's perfectly fine. Prayers so I'll get through the race again without any injuries on Oct. 14, would also be appreciated.